Powerstep 2 Degree Heel Wedge
These wedges provide extra heel correction for those who need it. The Heel Wedges are self-adhesive dense EVA foam pads that are placed directly under the heel of the orthotic insert to further help prevent over-pronation to relieve heel and arch pain.
Heel Wedge
/
powerstep
Features
2-degree medial wedge in dense EVA foam
Adhesive backing
Sold by the pair
Benefits
Provides extra heel correction
Helps prevent over-pronation
Relieves heel and arch pain
Specifications
Durable, dense EVA foam, Blue
Adhesive on bottom with removable backing
Indications: Over-pronation, flat feet, fallen arches, arch and heel pain
Application Instructions: Remove adhesive backing, noting the Right (R) and Left (L) markings. Apply firmly to the underside of the Powerstep® orthotic heel platform with the curved edge aligned with the curve of the heel. Adjust position as necessary for comfort.
Warning: Not intended for persons with severe foot deformities or circulatory disorders resulting in infections or foot ulcerations. Always consult a medical professional when experiencing persistent pain, discomfort or swelling.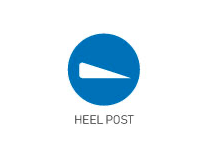 Article number WARD30939