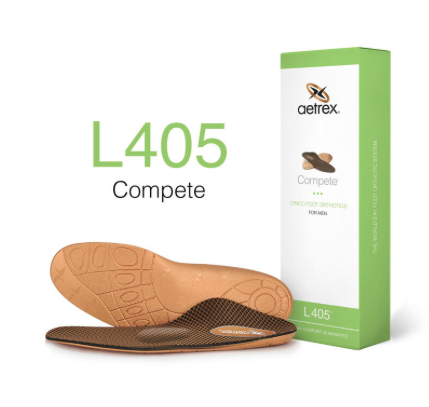 Lynco Sport 400 Series - L405
L405 - orthotic for medium to high arches with forefoot pain, featuring a cupped heel to cushion and stabilize the back of foot and a metatarsal pad to redistribute weight to relieve ball-of-foot discomfort.
Aetrex
/
arch support
/
L405
/
Metatarsal
*Insoles are brown/tan as displayed in the pictures.
Aetrex Compete Orthotics are designed for active lifestyles, injury prevention and help to maintain overall fitness and health daily. This orthotic features our signature Aetrex Arch Support to help biomechanically align your body & help prevent common foot pain such as Plantar Fasciitis, Arch Pain and Metatarsalgia.

Details:
Top Cover Material: CopperGuard® antimicrobial lining
Center Cushioning Material: Pro-Shox® polyurethane to absorb shock and reduce impact
Performance Base: Aerocell™ polyurethane for high energy return
Insole Thickness: .2165"
Recommended for: Hikers, Walkers and Everyday Activities
Best for: Hiking boots, Walking shoes, Everyday shoes, sneakers and boots
Article number WARD4352